Related Pages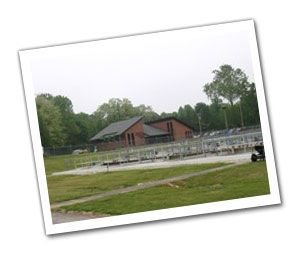 NOTICE:
As of November 01, 2019 – the Sanitary Sewer System is owned by Illinois American Water Company.
Information on Sanitary Sewer Click on Top Menu – Residents – Utilities/Services
The Village of Godfrey Sewer Department provides and maintains the sanitary sewer system in the Village of Godfrey.  The Sewer Department is also responsible for the processing of the wastewater received at the sewage treatment plant and maintenance of the plant.  EMC-American Water, an operational management firm, is contracted to perform the day-to-day operations of the system and providing the sewer billing service.
In the event of a sanitary sewer related emergency, please call 1-800-422-2782.

TO PAY IN PERSON FOR GODFREY BILLING – DUE BY NOVEMBER 15, 2019

No Payments can be made at the Sanitary Sewer Treatment Plant only at the Village Clerk's Office, 6810 Godfrey Road, Godfrey, Illinois between the hours of 7:30 a.m. to Noon and from 1:00 p.m. to 4:30 p.m., Monday through Friday to pay in person.  The Village Of Godfrey offices will be closed on Monday, November 11, 2019 for the Veteran's Day Holiday.
**For your convenience, a 24 hour DROP BOX is located to the left of the Village Hall's front doors at 6810 Godfrey Road.
To Pay Electronically:  See Sewer Department Additional Links – Online Sewer Bill Payments
To Pay by Phone: See Sewer Department Additional Links – Payment by Phone – Sanitary Sewer Billing Only

CALL BEFORE YOU CLEAR
Throughout the nation, utilities are joining together to let people know about the possibility that some underground natural gas pipes have been inadvertently installed through sewer or septic pipes – a situation commonly known as a "cross bore". Cross bores can be dangerous because the mechanical equipment used to unclog sewer and septic pipes can easily penetrate a natural gas pipe and lead to the dangerous release of natural gas.  Here is more information about the campaign.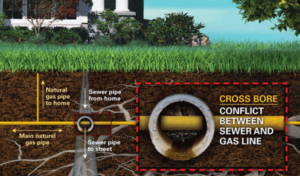 As long as a natural gas pipe is not penetrated, it poses no safety hazard. However, before you attempt to clear a sewer or septic pipe or have it cleared by someone else, contact the natural gas utility serving the area to ensure there are no conflicts with underground natural gas pipes. As a reminder, private sewer lines and laterals may not be located by the city or township. The homeowner or property owner is responsible to mark these private facilities.
If you have questions about the one-call process or need a speaker to talk about the importance of safe digging practices in your community, reach out to one of our Damage Prevention Managers.

Related Pages