Related Pages


Madison County Upcoming Recycle Events
Madison County had schedule four E-cycling events for 2023.  March 11, 2023, June 17, 2023, September 16, 2023 & October 21, 2023.  Time of events is from 8:00 a.m. to 2:30 p.m.  Appointments are required and you must be a Madison County Resident.   If you have any questions about scheduling Madison County E-Cycling events – Contact 618-296-6647 or E-Mail to [email protected]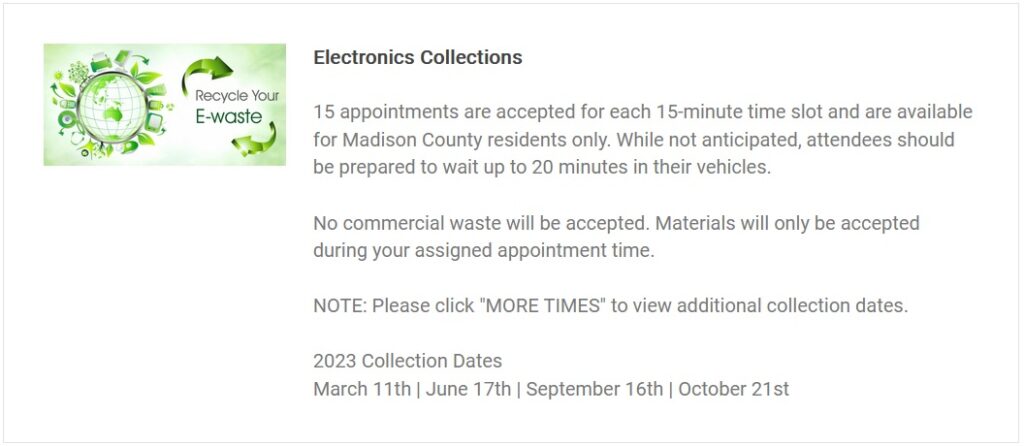 Click Above Image to go to Madison County Web page to schedule a recycling time


 Household Hazardous Waste Collection Events
Madison County Household Hazardous Waste Collections – Will be held on the first Saturday and third Friday of each month starting November 2021. Appointments are Required and you must be a resident of the State of Illinois.  The HHW Collections will be held at Madison County HHW Collection Facility, 249 N. Old St. Louis Road, Wood River, Illinois   Click Here for more Information
Next Scheduled Appointments:
January 7th & 20th, 2023
February 4th & 17th, 2023
March 4th & 17th, 2023

Click Above Image to go to Madison County Web page to schedule a recycling time

---
Recycling collection information
CJD E-Cycling
5257 N. State Rt. 157 – Edwardsville, Illinois
Hours: Monday – Friday 9:00 am – 4:30 pm and Saturday 9:00 am – 1:00 pm
618-659-9006
website   https://www.cjdecycling.com/
---
Burning Regulations within the Village of Godfrey
Burning is restricted to only private property only:  NO BURNING IN STREETS OR GUTTERS
March, April, May, October, November and December residents may burn only landscape waste such as leaves, bush or branches on Wednesday and Saturday only between the hours of 9:00 a.m. and 3:00 p.m. (2023 Calendar).  All fires must be supervised at all times.  Fires must also be out by 3:00 p.m. and not smoking after 3:00 p.m.  For a copy of the Village ordinance you may go to Municode.com or from the Village Clerk's Office.
---
No Landscape Waste in Public Sewers
ATTENTION:
NO LANDSCAPE WASTE IN PUBLIC SEWERS
Specific Prohibited Discharge to Public Sewer (Storm Sewers)
Ordinance 002-2010
"No person shall discharge or cause to be discharged any of the following described waters or wastes to any public sewer:" ( 5 ) Any outdoor landscape waste including but not limited to limbs,  leaves, plants, shrubs, dirt, mulch, garden vegetation or any other organic waste material generated from lawns, gardens,  trees, bushes or shrubs.
---
Curb Recycle Pick Up Accepted Materials             Curbside Recycling 101 Website

Recycling works when we recycle BETTER!  Contamination has become an overwhelming problem for the recycling companies.  To help us all be better recyclers Click Recycling WORKS When We Recycle BETTER (PTD) for a list of what you can Recycle.  Please check out Madison County's Recycling Website by clicking here
---
CodeRED is now being run by Madison County.
Log on to: https://public.coderedweb.com/CNE/68684CD288F8
Those without Internet access may call the Madison County EMA office (618-692-0537), Monday through Friday, (8:30 AM – 4:30 PM) to register over the phone.
Related Pages