Related Pages

Saturday, September 29, 2018
The 19th annual Fall Corn Festival will take place on Saturday, September 29, 2018 beginning at 11 am. The Great Godfrey Maze and all of its events will be open for business along with additional events and activities. Please join us for this fantastic fun-filled event!  For timeline of events click here.
Little Miss & Mister Maze 2018 will be at the Fall Corn Festival starting at 4 pm! For more details contact the Parks and Recreation Office.
For information on being a vendor at Fall Corn Festival click here.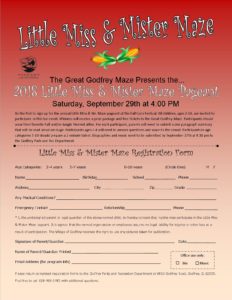 Parks and Rec Additional Links
Related Pages