Related Pages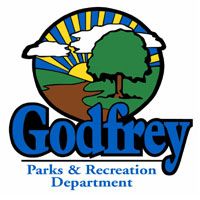 The Village of Godfrey Parks and Recreation Department strives to take a leadership role in southwestern Illinois in promoting and developing parks and recreation by addressing local needs and supporting a greater role providing open space, parkland and recreation opportunities to effectively meet and serve the needs of its constituents, the citizens of Godfrey, and those who interact with the parks system.
Program Ideas: Please bring any new program suggestions to the attention of the Recreation Department.  We encourage your ideas and welcome fresh input into our program offerings.  We are seeking qualified program instructors to lead a variety of enrichment programs. If you are interested in sharing your skill or trade with others, please contact our Recreation Supervisor.
Registration Deadlines: The Godfrey Parks and Recreation Department reserves the right to cancel any program if the minimum number of participants is not met by the registration deadline.  Registration deadlines are program specific and identified with each program.
Ages for Programs: All programs have an age requirement for participation.  Ages are determined by the participant's birthday as of the beginning of the program.
Say Cheese: For promotional purposes, photographs may be taken of program participants and at special events.  If you do not wish to have your photo taken, please notify the photographer or the program instructor.
Accessibility: The Godfrey Parks and Recreation Department welcomes the opportunity to assist citizens with disabilities to enjoy our facilities, programs and services.  Please call and let us know how we can be of service.
Cancellations: Game and program cancellations will be available on teamsideline.com/godfrey and Facebook under Village of Godfrey Parks and Recreation Department.
Job Opportunities: 
The Godfrey Parks and Recreation Department is an equal opportunity employer and employs part-time employees for work in various areas throughout the year. 
Applications
will be accepted throughout the year.
Volunteer Opportunities: TEAM-UP with the Godfrey Parks and Recreation Department at a variety of our programs and events. Please contact our office if you wish to have your name added to a list of volunteers who will be contacted when opportunities come up!
Distribution of Program Information: The Godfrey Parks and Recreation Department is committed to sharing updated information with you at your convenience. You can find information on programs and special events any of the following ways:
This Website
Our Facebook Page
Flyers through local schools
Parks and Rec Additional Links
Related Pages